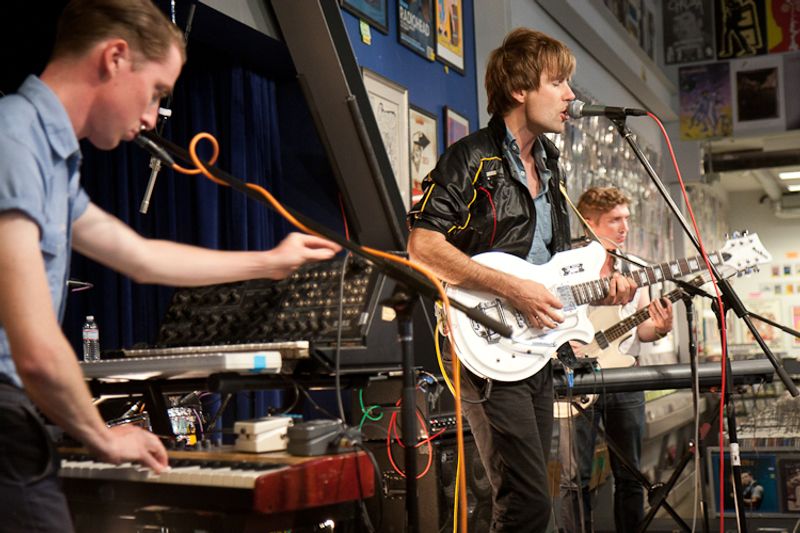 Islands took the stage at Ameoba Hollywood Sept. 17, the day they released their fifth album, Ski Mask (on CD, LP or download). The band mostly played songs from that album, portraying a more mature, subdued version of Islands than we've previously seen. However, Nick Thorburn is still a beast and a ham onstage—"We're Islands, it's true—oh shit," he said, distracted by something, then went to start a song on keys before returning to holding the mic and strutting through "Wave Forms," Ski Mask's buoyant opener. "Death Drive" introduced cool analog keyboard sounds and a subtle hip-hop feel to the set. For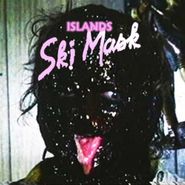 Ski Mask's best song, "Becoming the Gunship," Thorburn took to playing a beautiul white guitar—he and his band all looked pretty dapper, btw, but that's neither here nor there—and his bandmates offered solid harmonies. They reached back to 2008's Arm's Way for the discoy "Creeper" before returning to the newer material, proclaiming "Contractually, I'm obligated to ask you to buy [Ski Mask]" before launching into that album's "Winged Beat Drums," a funkier song akin to Spoon with nice dynamics and sunny lines like "life's not a gas, it's a gas chamber." Thorburn picked his guitar alone in the opening of the sad-sounding "Here Here," while "Hushed Tones" saw bigger, Who-style ringing chords, with a soft underbelly of watery synths. Thorburn appeared to get annoyed with someone in the audience and invited the guy onstage to air his complaints—that guy ended up being rapper Subtitle, who joined the band to deliver his rap on Return to the Sea's "Where there's a will, There's a whalebone." Even as they've mellowed out, Islands couldn't resist throwing a bit of mayhem into the mix. The band stuck around for a signing session that included all members of the band biting into one of their records—perhaps to authenticate it as real, like people did in the olden days with gold coins.
See more photos from the event here.