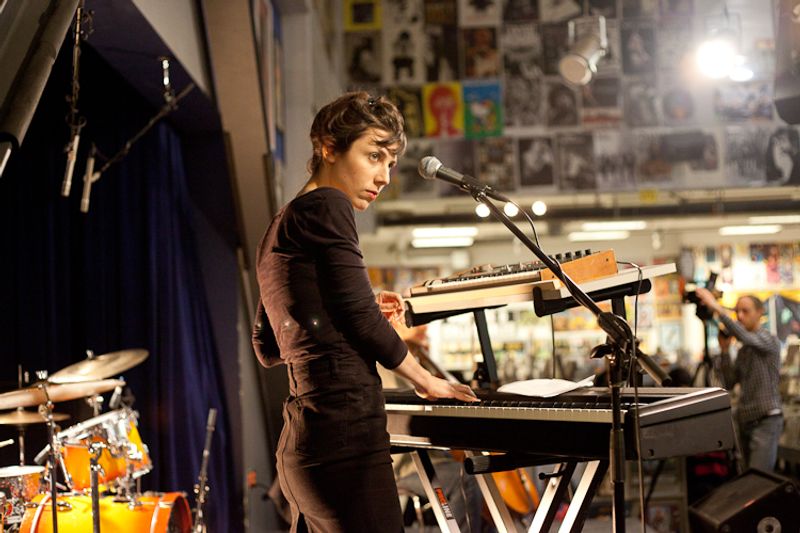 I interviewed performer Julia Holter a while back, last year when she played at Amoeba Hollywood upon the release of her album, Ekstasis. Now the CalArts-bred experimental pop artist is back with a new album, Loud City Song (available on CD or LP), and it's one of the year's best, combining cerebral electro-pop and neo-classical orchestration, with a piano-based, singer-songwriter heart. Read our conversation below about Joni Mitchell, TLC and the vastness of L.A. Make sure to check out Loud City Song and see photos from her performance here.
Me: Were you always able to sing growing up, and who were some of your singing idols?
Holter: I didn't sing much until I was—well I sang in secret—and when I was like 15, I started listening to Joni Mitchell a lot, like her later stuff that's really cool, not just the early, folk stuff, but the weirder stuff.
Me: Like her jazz records?
Holter: Yeah, I really love her voice. Although I think when I'm inspired by things, I'm not necessarily influenced by them. I might not sing like her, but I used to sing all her songs. I used to also sing a lot of Fiona Apple and Tori Amos. Billie Holiday. And I loved hip-hop and R&B—I dunno, all kinds of soulful women's voices. Even earlier, when I was like 11 listening to TLC, being really inspired by that and singing it secretly, like learning Left Eye's whole rap.
Me: To "Waterfalls"?
Holter: Yeah. I learned it, the whole thing. I still know it.
Me: I feel like I hear bits of Asian influence in songs like "In the Same Room" and Indian influence, at least vocally. Is that based on your studies or more intuitive?
Holter: More intuitive, 'cause I did do some Indian singing—I didn't study it for a long time or anything—but I did do some of that. So it maybe just came about. At the time I wrote "In the Same Room," for instance, I was doing some Indian singing lessons—really badly, like I really didn't know what the hell I was doing. But I love singing it anyway.
Me: How much of your sound is based on improvisation versus concrete parts, and how do you construct your songs? There are so many parts in motion coming together.
Holter: They're different. For "Marienbad," there's kind of these two parts, and that's also the case for "This is Ekstasis." They both do that. And in those cases, I was really at the piano the whole time and I came up with this part and then came up with this other part, and they kind of happened and maybe a lot of that was in the recording process, like "oh I'm gonna do this, too." For "This is Ekstasis," that ending part I came up with separately. Sometimes they come from two different places and I meld them together because it fits right. More recently I've been writing in a more traditional verse-chorus-verse.
Me: There are certainly poppier and then more cerebral moments to this album. Would you ever do a straight-up pop record?
Holter: If I felt like it. I listen to pop music all the time, that's actually mostly what I listen to, like driving around in the car, listening to 92.3. I used to be a college radio DJ, and I used to listen to music all the time as a music director. I used the computer [to listen to music] all the time as a teenager, and I just don't anymore. I need to listen to more music. So in terms of the way I write my music, I really just write what I want. … I kind of trust that because we're all human species, other people might like it. I don't think about the audience when I'm writing because you can't do that—at least I can't do that.
Me: There certainly is and has been a great experimental music scene in L.A., and I think one of the most wonderful things to have seen over the years is how much great experimental pop has come lately from the CalArts crowd (Ariel Pink, John Maus). What do you make of that and that sort of recent glut of, for lack of a better term, people who have gotten noticed from that pool?
Holter: I don't know. I think there's definitely. what I think that's's not necessarily CalArts … but I think L.A. is really disparate, there are so many parts, and people feel open to experiment. I think there's just an openness here. … I just get the feeling like when I visit New York that, it might be good in some ways because there's so much energy going around, but here I feel like there's so much space, and I get caught up in my own thing, which can be bad too, but it was good for me. I think that lends itself to experimental pop easily. On one hand it's something fun, it's catchy, but on the other hand you're doing what you want. … Both of those things are very important to me.