Washed Out's third album takes the poolside chillwave of Ernest Greene's previous releases and expands it into a psychedelic wonderland of sound. You can picture the paisley and swirling visuals of a song like "It All Feels Right" in its first bars, but Greene's songs aren't loaded with a generic '60s feel. They come to life with the intricate detail Greene slowly pours onto these songs like honey — "It All Feels Right" might be just a handful of chords and simple melody on the surface, but decayed samples, tremeloed vocals, bird chirps and hints of sitar make up a menagerie of sounds to tickle your ear. Songs like "Don't Give Up" return the hip-hop beats and lite funk bass to the mix. "Weightless" lives up to its name as slow-motion dream-pop in which emotions are suggested rather than felt directly, sounding a bit like an electronic version of a
Julee Cruise
song. The album pulls back into focus with "All I Know," whose jangling guitars and ascendant melodies carry the emotional uplift of
U2
or recent
M83
yet with Greene's traditional laidback stance, marking among Greene's best yet. Some of
Paracosm
gets a bit murky in its second half, but Greene is still an expert at pairing atmosphere with pop rooted in various eras and genres. Whether he's vibing '80s synth-funk, hippie-era sentiment or shoegazing solitude,
Paracosm
is miraculously seamless and enjoyable throughout.
Washed Out Paracosm CD $12.98
Washed Out Paracosm LP $19.98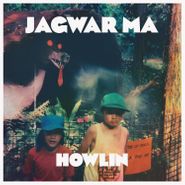 Between Jagwar Ma,
Pond
and
Tame Impala
, Australia is poppin' with great psychedelic rock bands. Jagwar Ma are the latest heady export from down under, and their debut record,
Howlin
, remagines the Madchester sounds of the
Happy Mondays
and
The Stone Roses
for the millennial set, with more of a bargain bin approach to their sound collage. The band adeptly layers Britpoppy vocals atop of one another until they spiral nearly out of control on "What Love." "Uncertainty" starts with a minimal funk bassline like
The O'Jays
' "For the Love of Money" and builds that out into a sunny, psych-dance jam. "That Loneliness" springs into step with a Motown beat that breaks with the rest of the album but somehow fits, like they're just spinning their favorite records into a seamless set. They let loose for the ravey "Four," one of the tracks that you could see being spun in clubs, though many of the duo's songs lend themselves to the remix treatment. "Backwards Berlin" is a bit of
Animal Collective
-style ambient loveliness that closes the album out and feels like a sweet comedown. Though its tonal shifts seem jarring on paper, in practice,
Howlin
flows beautifully. It's a fully formed set, more concerned with crafting solid songs and memorable melodies than it is in fitting in with one particular style or scene.
Valerie June - Pushin' Against A Stone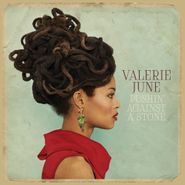 Valerie June is a well-kept secret no more with the release of her latest album,
Pushin' Against a Stone
. Co-produced by
The Black Keys
' Dan Auerbach, who also lends some songwriting help, Pushin' Against a Stone is the story of June's life - "I ain't fit to be no mother ... I've been workin' all my life" she sings at the outset of the album over a syncopated beat on "Workin' Woman Blues." Her voice, a froggish thing somewhere between
BIllie Holiday
and
Joanna Newsom
, takes some getting used to, but it suits the variety of styles June tries on, from Appalachian folk ("Somebody to Love") to swaying, gospel-tinged pop ("The Hour"). Auerbach, for the most part, doesn't flood June with oversaturated or overly rocky production, instead letting June's voice carry through brittle, beautiful folk songs, but his touch helps give songs like the title track some added oomph, with a fuzzed out guitar offering counterbalance to the song's organ-laden blues, while June makes for a convincing blues-rock frontwoman on "You Can't Be Told," sounding like a successor to
Wanda Jackson
. While
Pushin' Against a Stone
is a highly accessible record, June is still definitely an odd bird. But it's her unclassifiable nature and unique voice that give the album flight.
Valerie June Pushin' Against A Stone LP
$19.98
Medicine - To the Happy Few
Forgot to mention this one last week. The cultish L.A. shoegazers reunite for a set of ear-blasting noise and head-soothing melody. Shoegaze fans, don't sleep on this one!
Medicine To the Happy Few CD $11.98
Medicine To the Happy Few LP $19.98
Medicine To the Happy Few Download $9.98
Check out all of this week's new releases.
Become a fan of PST on Facebook!