Amoeba has entered into a partnership with L.A.'s Moheak Radio to provide the Amoeba Song of the Week every week for a recorded segment to air on Moheak's online radio station.
This week it's Alice Russell's "For a While," from the British singer's fifth solo album, To Dust (available on CD, LP or digitally). The song's funky, stuttering electronic beat provides a perfect backdrop for the Russell to deliver neo-soul harmonies and sing with a nuanced intensity. Russell recently performed at Amoeba Hollywood. You can see photos of the performance here, and you can read my recap of the show here and watch a video of the performance below.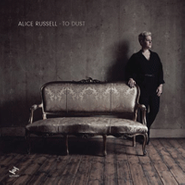 A bit about Amoeba's Song of the Week: Every week we'll provide a song hand-selected by our own staff to Moheak Radio for a recorded segment that will run four times a day (at around 8 a.m., 1 p.m., 5:45 p.m. and once overnight). Besides hearing what our expert staff is into, you'll get the chance to win prizes from Amoeba Music. The giveaways will happen once a week with announcements at least once every four hours leading up to the giveaway, which will take place on Moheak's Facebook page. Check it out, support local/online radio and win some prizes along the way.