Shannon and the Clams – "Into a Dream"
Shannon's sweet snarl leads us through a tunnel-of-love melody and '50s pop arrangement. The gloriously lo-fi production and Shannon and her Clams' disorienting harmonies make the whole thing a fun, woozy ride. Dreams in the Rat House is due out May 21 on Hardly Art. Listen or download for free from Amoeba. Check 'em out at Amoeba San Francisco Thursday May 23 at 6 p.m.!
Honeymoon – "Sure Stuck"
Honeymoon is an Australian-born, L.A.-based production duo whose upcoming album is said to be an update of '60s/'70s psychedelic pop. It sure sounds that way from "Sure Stuck," the second song they've released from the upcoming album. Think a more electronic Tame Impala. Honeymoon's one to keep an eye on.
GRMLN – "Do You Know How It Feels?"
We've been awaiting So. Cal.-based GRMLN's debut record for a while now, and it's finally due June 4 (Empire, releasing on Carpark). The third track he's previewed from the album is "Do You Know How It Feels?" Check it out and soak up some power-pop goodness. And download his previous single "Hand Pistol" for free from Amoeba!
Mikal Cronin – "Change" video
You ever feel like the ghost at a party? The video for Mikal Cronin's "Change" captures that feeling quite literally. Check out the video from the power-poppin' MCII, which we can't get enough of over here.
English Singles – "Ordinary Girls"
The first thing I think of is "Typical Girls" by The Slits, but English Singles are actually a band of sassy boys and girls from Sacramento who've been in other local punk bands like the Bananas, Nar and Bright Ideas. Their Ordinary Girls EP, out now on Slumberland, calls to mind original wave British punks like The Buzzcocks as well as many of their labelmates' clean-guitarred jangle.
Books of Love – "Space Time"
Katy Goodman of power-pop goodies La Sera and friend Greta Morgan of The Hush Sound went a-walkin' by the Griffith Observatory and thought up a dorky, cute love song about falling in love with someone from another dimension. You can pick up "Space Time" directly from the band. No idea if there'll be a Books of Love album, but for now Goodman is working on the next La Sera album following last year's awesome Sees the Light and Morgan is about to go on tour with The Hush Sound.
Shows This Weekend:
Friday: Ariel Pink is playing at Hollywood Forever Cemetery ($25, 9 p.m.); if that's too hard to get into, there's Ancient Animals, Thee Rain Cats, Zig Zags and Washing Machines at The Smell ($5, 9 p.m., all-ages) and if you're in Orange County or down to make the trip, Killer Mike and Big Boi are at the Observatory ($25, 8 p.m.).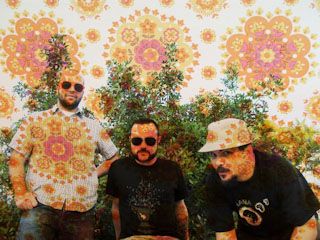 Saturday: The Black Angels, Hanni El Khatib and Wall of Death are at The Glass House ($20, 7 p.m.) and Torche is at the Troubador ($14, 8 p.m.).
Sunday: Danny Brown at the Glass House ($16, 7 p.m.), The Ocean Blue, Soft Swells and Incan Abraham at The Satellite ($15, 8 p.m.) or Classixx and Holy Ghost at the Observatory ($16, 8 p.m.).