La Santa Cecilia isn't a person — or she isn't a live person, rather. It's a band fusing all sorts of worldly influences — cumbia, bossa nova and blues, to name a few — named after the patron saint of musicians. But you could've been fooled into thinking frontwoman Marisol Hernandez was a saint herself, given the way she commanded the stage at Amoeba Hollywood April 30.
Her booming voice soared over a bluesy opener, generating rapturous applause from the show's sizable audience. The band then went into an upbeat song driven by Jose "Pepe" Carlos' riveting accordion playing, with Carlos and bassist Alex Bendana backing up Hernandez with trade-off vocals.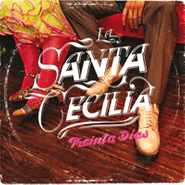 Hernandez seemed to get choked up as she thanked people for coming, later saying it was an honor to play in the store. As though driven to please those she had just thanked, she danced, jumped and sang her heart out through the band's next bilingual jam. The band paused for a break while medical personnel attended to a concert-goer in medical need (who was shortly doing fine, it was announced).
They came back and introduced legendary drummer Pete Thompson, who carried them through a spirited romp as the band worked to restore stability to the show, while Hernandez rapped and roared through another song complete with blazing guitar solo. She gushed about receiving an email from Elvis Costello saying he wanted not only to perform but write on the album as well, sending lyrics for the song "Losing Game," from their just-released Treinta Dias. Though Costello wasn't present, Hernandez made up for it by doubling her already formidable stage presence and voice through the song's swinging New Orleans feel.
They implored audience members to clap along to an upbeat cumbia number that made the convincing easy, and Hernandez brought a little girl onstage to dance with her. They renewed their call for immigration reform, saying "we are immigrants ... this song is for everyone," and their guitarist brought out an acoustic guitar for a bossa nova tinged number before playing one more salsa jam to close out the night. Read more about La Santa Cecilia's immigration efforts on Gomez's blog. See more photos from the event here.