Alice Russell wasn't messing around on a hot May 1 at Amoeba Hollywood, waltzing out as her band launched into To Dust's "Heartbreaker Pt. 2." She commanded the performance with a booming voice that soared over the music's elegant compositions, with a terrific mix that highlighted her voice without washing out her band's subtle backing arrangements.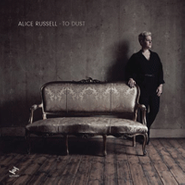 Her band's all-in-black, buttoned-to-the-top motif may have been funny on such a hot day, but the Brits looked and sounded so cool that it made us feel less sweaty just to be around them. Russell grooved hard to the next song, ending with a roaring vocal breakdown as her band came in on crescendoed hits like they were playing for James Brown. They slowed things down for "Citizens," a sparer soul ballad in which Russell was accompanied by sampled, spectral harmonies. On the strutting electro-funk of "For a While," Russell and her band showcased their ability to organically include electronic elements into what are at their core traditional soul-funk songs. The band's breaks were breathtaking on this one, generating applause when they bore back into the song.
They slowed back down again for a song that began as a piano ballad and ended up a heavier power-ballad, with Russell pushing her voice to its deepest and then back up for spirited cries of "goodbye," before shifting once more into a kind of sudden new wave track that suggested a soul version of The Cure. In fact, their next song had quite a bit of that same creeping dread pouring into it. Despite Russell's effervescent nature, big voice and her band's pop-oriented tack, they're quite British at heart. Gothic soul is the most sense I can make of it. Russell might just be our next Alison Moyet of Yaz.
See more photos of the event here.