Hi guys, it's a quick one this week (DEADLINES!!) but here are some great local songs/vids I checked out:
Heavy Hawaii – "Airborne Kawasaki"
Oh man, I'm falling hard for Heavy Hawaii, a San Diego duo that produces woozy, lo-fi surf pop that sounds like a Beach Boys tape reel warped from years of disintegration, with its parts sounding as though they're played at different speeds — guitars charge forward while synths rest uneasily underneath and Matt Bahamas' vocals move from sweet high-end coo to low-end doom. Goosebumps is due March 19 on Art Fag.
Bleached – "Next Stop" video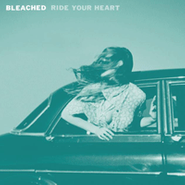 LA kids get cozy at a party over the Clavin sisters' raw surf-punk riffs and harmonies. The long-awaited debut LP Ride Your Heart, from Bleached, featuring Jessie and Jennifer Clavin formerly of Mika Miko, hits April 2 on Dead Oceans. Preorder it on CD or LP.
The Ceremonies – "Land of Gathering"
L.A. trio The Ceremonies debuted their first video on Vice's Noisey blog this week for the Britpoppy "Land of Gathering." With three shaggy-haired brothers — Matthew, Mark and Michael Cook — and these soaring vocals, I'm sure these guys will be big. The band is currently is signed to Atom Factory and is working on its debut LP, due later this year.
Hanni El Khatib – "Family" video
Speaking of Noisey, L.A. rocker has unveiled a video via that blog for his rip-roarin' track "Family," from the upcoming Head in the Dirt LP, due April 30 on Innovative Leisure. Tighty whiteys!
Pharaohs – "Miraculous Feet" (featuring Maria Minerva)
Favorite dance track of the moment: the deep, dark grooves of "Miraculous Feet," by Los Angeles band Pharaohs, whose album Replicant Moods is due April 20 on 100% Silk. The irresistible "boy from the street with miraculous feet" vocals come from Maria Minerva, whose fine Will Happiness Find Me? and collaboration with LA Vampires, The Integration, were released last year — check 'em both out, and keep an eye out for Pharaohs come April.
Shows This Weekend: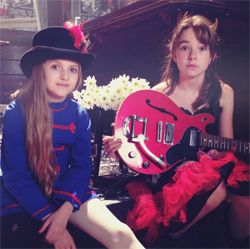 Pretty Little Demons
Friday: Amoeba Presents Allah-Las and The Babies at the Natural History Museum (Event starts at 5 p.m., bands at 8; $18; read more about the show here)
Saturday: Morrissey and Kristeen Young at Hollywood High ($49.50-$69.50); Kitten at the Roxy (8 p.m., $8.50)
Sunday: Toro y Moi, Sinkane and Dog Bite at the Fonda Theatre (8 p.m, $25); Pretty Little Demons with special guests Exene Cervenka and Brett Anderson at Amoeba Hollywood (5 p.m., FREE)