Album Picks:
Veronica Falls - Waiting For Something To Happen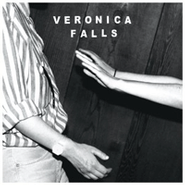 CD $12.98
LP $16.98
Veronica Falls make a huge songwriting leap on their second album for Slumberland Records. Where their first self-titled album was sweet and catchy, Waiting for Something to Happen explodes with teenage energy, overflowing with emotion and honesty. Frontwoman Roxanne Clifford is no belter, but she knows how to land a line, singing "driving late at night, I'll let you listen to the music you like" in a way that digs into you with unforced adolescent earnestness on "Teenage." Musically, Veronica Falls touch upon '80s jangle and '60s garage rock without falling prey to forefather worship — their easiest comparison for influence is early R.E.M., constructing straightforward guitar pop that wear honesty and naivete as badges of pride. Similarly to that band in its early incarnation, Veronica Falls sound like a gang of close-knit misfits, with Clifford's cohorts surrounding her smooth voice with harmony and melodic counterpoint on a song like "If You Still Want Me," wringing new energy out of a chord arrangements older than sin played as though it were entirely new. The band's confidence and ability to guide a song smoothly carries them through simple arrangements until you're completely sold — witness how the band makes "Everybody's Changing" into their own "Everybody Hurts," with a handful of chords, simple statements and the panache to carry it off. While it may have been tempting to enjoy Veronica Falls as merely one of the best bands to recreate a beloved old sound, they make the case for being as strong as several of their forebears on Waiting for Something to Happen's strongest moments. When Clifford sings "You're a broken toy, it's true/But I am broken too" on "Broken Toy," the teen angst in you will come flooding right back. Don't resist the urge to give in.
Lisa Germano - No Elephants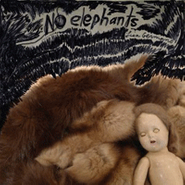 CD $13.98
Download $9.98
Lisa Germano continues to delve into strange, dark places on her latest album, No Elephants. She maintains the singular style of gothic folk of records like her classic 4AD Record Geek the Girl while stripping things down until they're at their starkest, as on the title track, which consists of little more than Germano, a single piano and tape hiss. But Germano's voice can still make your hair stand on end, as when she sings "I take it all back" like a desperate lover on the title track. Lyrically, she fascinates with acute specificity, imbuing seemingly unrelated words and images with meaning through her breathy voice and eerie atmospherics: "Four stomachs, throw up, start over … hogwash, bulldozer, way out of order" she sings in childlike, Gertrude Stein-esque chants on "Ruminants." Musically, things on No Elephants are always more interesting than their picturesque surface would initially suggest. Strange sounds whirl beneath the veneer of the circular arrangement of "Apathy and the Devil," and "Back to Earth" journeys into the atonal, even as it sounds culled from some warped musical. And Germano remains as adept at utilizing found sound and samples as she was when she famously incorporated a 9-1-1 call into her early song "…A Psychopath," adding bird sounds to "Ruminants" and glitching phone noise to the instrumental "Haunted" and using it as a backbeat for "Dance of the Bees." With little left to prove at this point, Germano goes her own way on No Elephants and ends up with one of her most intriguing releases in years.
Pissed Jeans - Honeys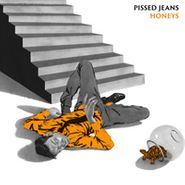 CD $12.98
LP $14.98
Funny, nasty, sludgy, catchy hardcore tunes with clever lyrics and riffs that can be delivered at fever pace (opener "Bathroom Laughter" is a "Beavis & Butthead" wet dream) or at a slow, deadpan crawl — "hey there project manager, I saw you eating cafeteria food, so you wanna call that a healthy choice, well I argue that isn't true" they sing like corporate zombies on "Cafeteria Food." Fans of The Jesus Lizard, early Nirvana and SST bands will lose their piss over Honeys.
Foals - Holy Fire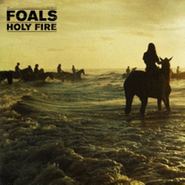 CD $13.98
After debuting as part of the '00s dance-rock pack, Foals augmented their sound, making it darker and more epic on 2010's Total Life Forever, a process they further on Holy Fire. "Inhaler" moves along a slow dance beat with guitar noise that builds from delicate background pieces to shoegaze squall to heavy riffery. "My Number" and "Bad Habit" rely more heavily on the first part of that equation, offering cooing dance-rock with enough depth for indie kids and enough heartiness to please fans of bands like The Killers and Bloc Party. Though they're clearly attempting more of a crossover, as Holy Fire progresses, Foals sound more and more dedicated to utilizing synthesizers and atmospherics, as well as frontman Yannis Philippakis' throaty, earnest vocals, to create a statement of more lasting purpose. When they let go of some of the arena ambitions, as on spacious power ballads like "Milk & Black Spiders" and "Stepson," they achieve that end.
Bryan Ferry - The Jazz Age
CD $12.98
LP $22.98
From the Amoebasphere: Bryan Ferry is always up there at the country house cooking up some new way of delivering you the lush life, and this time he literally blows the roof off! Here are thirteen songs from the breadth of his career, from Roxy Music to recent solo albums, arranged and interpreted by a hard-swingin' 1920s style jazz orchestra, and presented in gloriously crackly mono. At first hearing tunes like "Do the Strand" come at you as a vigorous Dixieland stomp practically makes you laugh out loud -- then you realize the guy is serious. From "Love Is the Drug" to "Avalon," these tunes get sent back in the way-back machine, only to return with plenty of trombone charts, clarinet solos, muted trumpets and even coconut percussion fills. Members of the Pasadena Roof Orchestra execute this vintage fantasia, with some arranging help from UK TV composer Colin Good. Each reinterpretation is imaginatively and slyly suited to the original, whether bringing out a latent samba shuffle or hinting at the original darkness of tone behind a zany rhythm. Of course, Bryan Ferry has always been besotted with the Jazz Age, going back to his first solo album, These Foolish Things, in which he crooned classic 1930s ballads in his proto-new wave style. Even then he had a true knack for classic sounds (a knack not shared by just anybody, as one notices whenever Rod Stewart barfs up "It Had to be You"). So jump on this magic carpet with the Bryan Ferry Orchestra and soar back in time to the Roaring Twenties!
Ulrich Schnauss - A Long Way To Fall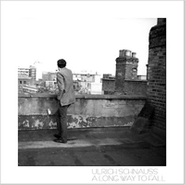 CD $13.98
LP $20.98
Ulrich Schnauss eschews some of the overtly shoegaze qualities of his previous work without too dramatically changing his sound on his fourth album, refining his sound into ambient pieces that retain the dreaminess he's known for while making its components more distinct and earthbound. While "Broken Homes" has a new age, spacey quality to its whispery synths, its pitter-patter beats, gurgling synthesizer melodies and bits of sampled voice suggest something more humanistic, more emotional.
Chelsea Wolfe - Prayer For The Unborn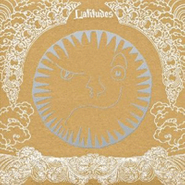 CD $13.98
LP $20.98
New EP from the goth-folk artist covering songs by punk band Rudimentary Peni.
Kelly Willis & Bruce Robison - Cheater's Game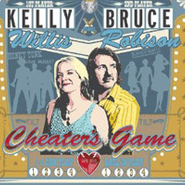 CD $12.98
LP $19.98
Married couple of Americana singer-songwriter Kelly Willis and country songwriter Bruce Robison team for their first album together.