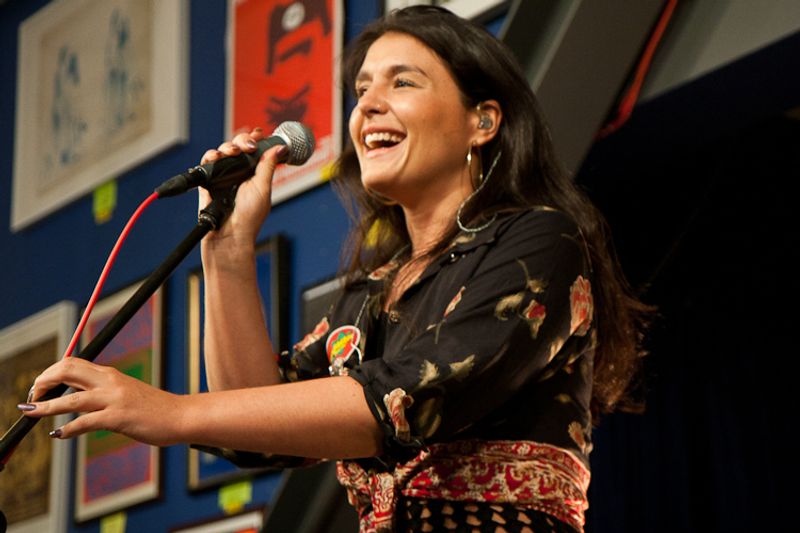 British songstress Jessie Ware emerged dressed down, looking like Stevie Nicks in a black ensemble and hoop earrings, Jan. 22 at Amoeba Hollywood. It's only worth mentioning as it coincided with the difference between her live show, raw and organic, and her more digital records, on the covers of which she appears glossy and glammed up.
Ware, known as kind of the hipster Sade, began with "Devotion," the title track to her Mercury Prize-nominated debut album, which will see a physical release in the U.S. later this year. Her voice sounded quiet against her band's booming basslines, but by the set's second song, the title track to her EP, "If You're Never Gonna Move," everything locked into place as she began loosening up, and tried to loosen up the audience too, who laughed when she called out their serious faces. "Sweet Talk," which appears on both the album and EP, sounded lush and bassy as her four-piece created an approximation of the recordings, with one guy handling both guitars and keys. Her voice sounded incredible on "Sweet Talk" as well as "What You Won't Do for Love," a cover of the Bobby Caldwell quiet storm classic.
Ware's voice and manner grew more confident over the course of the show, with each subsequent song, like "Wildest Moments," sounding better than the last. She hurriedly introduced her band and gushed about playing with The Roots on "Jimmy Fallon," pulling the audience in with endearing gratitude for her success. The show demonstrated how Ware is still developing as a central performer (she rose to prominence guesting on tracks by Joker and SBTRKT) and learning how to work a stage, but her voice was impeccable, reserving her belting for a spine-tingling finish in "Running."
See more photos of the show here.