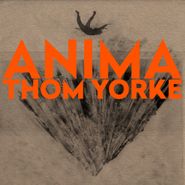 View all Photos

$29.98
Currently Unavailable
Artist:
Thom Yorke
Genre:
Rock
Release Date:
07/19/2019
Label:
XL Recordings
Catalog Number:
987E
Recording:
Studio
Length:
Format:
Vinyl LP
Note:
2LP
Indie Exclusive Orange Colored Vinyl
Anima [Orange Vinyl] (LP)
Thom Yorke

Currently Unavailable
$29.98
SHIPS FREE
in U.S.
Amoeba Review
08/04/2020
Anima represents an impressive evolution for Thom Yorke. Yes, this is still the immediately recognizable voice and talented songwriter of Radiohead but on this new record, Yorke the solo artist really spreads his wings.The sound of Anima is anxious and beautiful, soaring and ghostly. It's more electronic-based than usual, with massive washes of sound, futuristic bleep bloops, and cinematic synths. It's an epic response to 21st century turmoil and disruption and another strong argument for Yorke as one of our most brilliant contemporary artists. Surprising, cathartic, and shockingly beautiful.
Overall Rating
0 Submissions