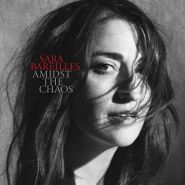 $14.98
Buy
Artist:
Sara Bareilles
Genre:
Rock
Release Date:
04/05/2019
Label:
Epic
Catalog Number:
593104
Recording:
Studio
Length:
Format:
CD


NOW OPEN!
Visit our new Berkeley
Cannabis Dispensary
located next door!
Amidst The Chaos (CD)
Sara Bareilles
Buy
$14.98
SHIPS FREE
in U.S.
Amoeba Review
08/31/2020
Sara Bareilles just gets better and better. On her fifth studio album, Amidst the Chaos, the singer's songwriting skills shine as she showcases an impressive level of depth, confidence, and vulnerability through vocals and lyrics. Produced by T Bone Burnett, expect Bareilles' signature piano pop balladry with a vintage R&B/soul sheen. Some of her strongest work to date, with each song telling a unique story that all adds up to one thoroughly enjoyable album experience.
Overall Rating
0 Submissions