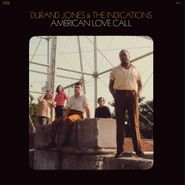 $22.98
Currently Unavailable
Artist:
Durand Jones & The Indications
Genre:
Soul
Release Date:
03/01/2019
Label:
Dead Oceans
Catalog Number:
177-C1
Recording:
Studio
Length:
Format:
Vinyl LP
Note:
Translucent Orange Vinyl
Limit One Per Customer
American Love Call [Translucent Orange Vinyl] (LP)
Durand Jones & The Indications

Currently Unavailable
$22.98
SHIPS FREE
in U.S.
Amoeba Review
09/03/2020
Channeling classic soul singers like Jackie Wilson, Curtis Mayfield, and The Impressions, modern day Dead Oceans exports Durand Jones & The Indications fully deliver on the sun-drenched throwback soul album American Love Call. Vocalist Jones starts the album firing on all cylinders thanks to the urgent, affecting "Morning in America." Featuring lush strings and dreamy backing vocals, the band's sophomore album revels in its retro aesthetics while managing to sound more topical and thought-provoking than ever before. Both timeless and timely, American Love Call shows a very talented band at the top of its game.
Overall Rating
0 Submissions