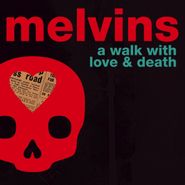 $20.98
Currently Unavailable
Artist:
Melvins
Genre:
Rock
Release Date:
07/07/2017
Label:
Ipecac Recordings
Catalog Number:
195
Recording:
Studio
Length:
Format:
CD
Note:
2CD


NOW OPEN!
Visit our new Berkeley
Cannabis Dispensary
located next door!
A Walk With Love & Death (CD)
Melvins
Currently Unavailable
$20.98
SHIPS FREE
in U.S.
Amoeba Review
Split beautifully between love and death, Melvins' latest is pure psychedelic frenzy made for fans of the freaked out Japanese psych scene of the '90s and the angry noise rock of the '80s. A Walk With Love & Death sees the band at their most ambitious, and it works.
Overall Rating
0 Submissions