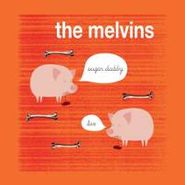 $14.98
Currently Unavailable
Artist:
Melvins
Genre:
Rock
Release Date:
2011
Label:
Ipecac Recordings
Catalog Number:
IPC126
Recording:
Live
Length:
Format:
CD
Sugar Daddy Live (CD)
Melvins
Currently Unavailable
$14.98
SHIPS FREE
in U.S.
Amoeba Review
Unbelievably, it's been nearly 30 years since the sludge metal kingpins Melvins came together in Montesano, Washington, playing Cream covers and sped-up punk. In the time since they've evolved/devolved most happily through subgenres of grunge, stoner stock, and drone, with the lone constants being Dale Crover (drums, 1984 on), vocalist Buzz "King Buzzo" Osbourne (founding member, 1983). What does Sugar Daddy Live contain? A raucous hodge-podge of songs from Senile Animal ("Civilized Worm") and Nude With Boots (the feedback-heavy "Dog Island") and a few stragglers. It's a great starting point for the Melvins curious out there.
Overall Rating
0 Submissions