Death Cab For Cutie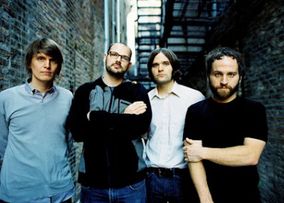 Seth Cohen's Starter Pack put the words Death Cab in the pop culture lexicon, for better or worse. The indie rock outfit that came to prominence as the favorite band of the thinking girl's protagonist of The O.C. was already a hipster touchstone by the time they played "Title and Registration" and "The Sound of Settling" at the TV show's fictional Newport Beach hang out, The Bait Shop, in 2005.
Death Cab for Cutie (often shortened to Death Cab) was formed in Bellingham, Wash., in 1997. Death Cab started as a side project for lead singer Ben... Read More
Artist News
Live Show At Amoeba Hollywood
Death Cab For Cutie perform live on 3/31 @ 6pm.
New Release
Check out the new album from Death Cab For Cutie.
Sign-up
for news alerts for this artist
| Album Title | Label | Released | Format | Price |
| --- | --- | --- | --- | --- |