The American Analog Set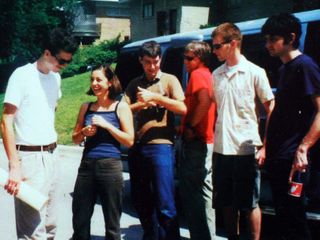 The American Analog Set—commonly referred to as AmAnSet—is an indie-rock bank based out of Austin, Texas. Incorporating lengthy instrumental passages (usually featuring Farfisa organ, brushed drums and Rhodes piano) and guitar-sparse ambient soundscapes, the band established themselves as lo-fi drone-pop artists, and put out six full-length albums and four EPs since their inception in 1995. Over the course of a decade, the group developed a devoted fanbase with extensive touring, and have been compared to the likes of Stereolab, Cocteau Twins and Galaxie 500.
AmAnSet formed when guitarist Andrew Kenny and his former bandmates from Dallas-based Electric Company—keyboardist Lisa Roschmann and metal-influenced drummer Mark...
Read More
Genre:

Rock, Alternative/Indie

City Of Origin:

Austin, ,Texas United States

Formed Date:

1995