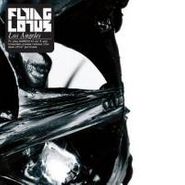 $27.98
Currently Unavailable
Artist:
Flying Lotus
Genre:
Electronic-Dance
Release Date:
06/10/2008
Label:
Warp Records
Catalog Number:
165
Recording:
Studio
Length:
Format:
Vinyl LP
Los Angeles (LP)
Flying Lotus
Currently Unavailable
$27.98
SHIPS FREE
in U.S.
Amoeba Review
Shawn, Hollywood 10/04/2015
An amazing instrumental beat album full of fat compression (nice!), heavy basslines, and plenty of melodic atmospherics. Similar in scope to those like J-Dilla, Jneiro Jarel (Shape of Broad Minds), DJ Krush or DJ Cam, this album is quite amazing. From California and signed to the prestigious Warp Recordings label based out of the UK, any Flying Lotus release is an essential purchase for anyone into big, phat and hazy melodic instrumental breakbeat oriented music...
Overall Rating
0 Submissions