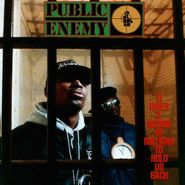 $26.98
Currently Unavailable
Artist:
Public Enemy
Genre:
Hip Hop
Release Date:
11/19/2013
Label:
Def Jam
Catalog Number:
1939401
Recording:
Studio
Length:
Format:
Vinyl LP
It Takes A Nation Of Millions To Hold Us Back (LP)
Public Enemy
Currently Unavailable
$26.98
SHIPS FREE
in U.S.
Amoeba Review
BillyJam 05/26/2014
What a technical masterpiece. With its wall of noise, feedback, and aural assault of guitars, horns, and head-nodding beats it is as much a metal production as hip-hop (hence why it crossed over to many who, up until that point, had not given hip-hop the time of day). Amazing production from start to finish. Of course, add in the supercharged, hardcore, on-point, political rhetoric of Chuck D, plus the humorous antics of hype man Flava Flav as the humorous counterbalance and you have a perfect hip-hop LP.
Overall Rating
0 Submissions