Sonny & the Sunsets have been releasing awesome, diverse records for some time now. Though they often get lumped in with a generic "garage rock" tag that seems to envelop a number of disparate bands from SF or LA, each Sunsets record is quite a departure from the last, from the ramshackle rock of Tomorrow is Alright to the bubblegum-minded Hit After Hit to last year's country-rockin' Longtime Companion.
The latest album from Sonny Smith and his crew is his best yet. Antenna to the Afterworld finds Smith delivering surrealist lyrics about aliens and robots, yet they're rooted in human emotion. "I come from the planet of dogs … And I walk on your streets ... And I can't wait to find/My little place in your weird world," he sings in the brilliant opening track "Dark Corners," over spage-age synths and a post-punky bassline. "Green Blood" finds Smith and bandmate Tahlia Harbour detailing Smith's affair with an extra-terrestrial who is married to a vengeful cyborg. Even in our wildest imagination, reality creeps in.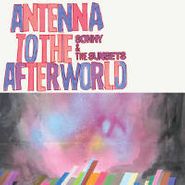 That combination of levity and realness is what makes Antenna to the Afterworld a remarkable record. Smith was inspired to ponder life and death after the murder of a close friend, and after a medium brought him into contact with another recently deceased friend (partially documented in the summer jam "Palmreader"). I recently discussed the record with Smith, and all its physical and metaphysical influences. And check out the band July 13 at the Echo!