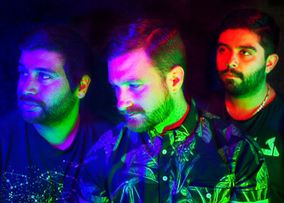 L.A. trio Roses spin out gorgeous tunes that blur the line between dreamy introspection and new-wave pop abandon on their debut EP, Dreamlover. The band, which features ex-Abe Vigoda member Juan Velasquez on guitar with Marc Steinberg on vocals/keyboards and Victor Herrera on bass, will be at Sayers Club tonight for the next Red Bull Sound Select show, along with Tanlines and SISU, who we caught up with yesterday. The show is only $3 with an RSVP and starts at 8 p.m.; hope to see you there!
We spoke with Velasquez a bit about his new band and the recently released Dreamlover before the show.
You guys were friends for a while before becoming a band. Tell me a little bit about how you guys formed.