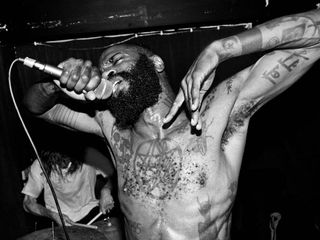 Death Grips have been one of the most important yet, to some, most frustrating bands to emerge during the 2010s.
The Sacramento band, made up of Stefan Burnett (aka MC Ride), drummer Zach Hill and producer Andy Morin (aka Flatlander), made aggressive industrial noise-fueled hip-hop with often little regard for fan expectation, acquiring a wider audience, their record label, physical media, basically anything and everything that wasn't a Death Grip. And this made them one of the most exciting bands around from a non-musical perspective because you never really could chart where they were going to go next. One minute, they're releasing their most widely appealing (and perhaps best) album to date, The Money Store, playing at Coachella and getting signed to Epic in 2012.
The next minute, they release their major label debut early, for free, over the Internet, with a dick pic as the cover and publish emails from Epic telling them to remove the downloads immediately. Apparently Epic wouldn't release the album until a year later, pissing the band off and prompting the early release of the music. It was a weird thing where the record label didn't look bad—not wanting to release an album in the same year as the band had already released another hardly seems like major label bullying, given the resources they'd put into promotion—but the band's utter disregard for "the way things are supposed to be" (not to mention their own monetary stake in their art) seemed punk at a time when the concept had lost most of its meaning. And fans won by getting the music as soon as it was finished (harkening back to a time when bands releasing multiple albums per year wasn't such a big deal), and those wanting a physical release got it when Universal eventually released the album.