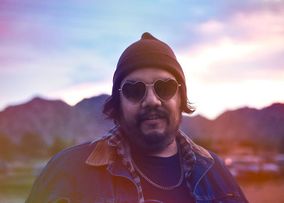 Joel Jerome has been one of the best songwriters in L.A. for years under a number of guises—with his bands, dios, dios (malos) and Babies on Acid. Recently, he's been going under his own name, under which he's released the Beck covers album When Beck Was Cool and now a collection of his own songs called Psychedelic Thriftstore Folk. It's perhaps the most direct and honed release he's put out yet, consisting of songs new and old that have been whittled down to pop perfection in his home studio in Echo Park. I caught up with him a bit before his Amoeba Hollywood performance Nov. 18 at 6 p.m. Instead of teasing you with some "quirky" factoid about our interview, why don't you just take two minutes and read it??
What made you change the name under which you record, from dios/dios malos to Babies on Acid and finally Joel Jerome?
Joel: I finally decided to have everything I do under one umbrella, one name, since I write, arrange, produce and record all my music. I decided to just have it under my name so I could have the freedom of having different players for different shows. I'm the one busting my ass for this, so I may as well take full responsibility and have it all go under my name.