Last week it was Eric's (also known as Majix to some) birthday. You might know him as the guy who works in Amoeba Hollywood's Reggae & Soul sections. A few of us got together on a Tuesday night at his pad to celebrate the birth of this very righteous gentleman. We had turntables, courtesy of
DJ Doleak
who works in our Hip-Hop section. Doleak just destroyed it on the turntables for most of the night while
Ray Ricky Rivera
, Eric and myself jumped in from time to time to give Doleak a breather. Some members of local bands
Aztlan Underground
and
Buyepongo
(more on this amazing group later) showed up as well.
Being a gracious host, Eric supplied a great spread & there were plenty of spirits. It was a Tuesday night that felt like a Friday night. Some of us (well..not me) even started a little freestyle session. Can't say anyone was that inspired at four in the morning, but it was fun nonetheless.
Wednesday, however...was a little rough on some of us who had to work the next day.
Check out some photos that I took at the party: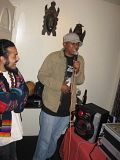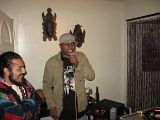 Continuing with my plan to see one summer blockbuster per week until the bitter end (we'll see how long I can last), I saw the
Wachowski Brothers/Brother and Sister
's Tolkien-inspired epic tribute to 70s' butchered anime,
Speed Racer
, this weekend. As Eric B. and I were discussing, if you could turn the screen upside down, it would like an experimental film, something along the lines of
Stan Brakhage
's 1991 film,
Delicacies of Molten Horror Synapse
:
But with the more vibrant colors of the 70s cartoon series (a bowdlerized version of
Tatsuo Yoshida
's anime from the 60s,
Mahha GoGoGo
):
Although
Time
's critic
Richard Corliss
proclaims the new film "the future of movies," I have some hope to the contrary, as allegorically alluded to in this scene from auteur producer
Roger Corman
's
Death Race 2000
(another film that
Speed Racer
resembles):
Just think of the geriatric sacrifice as a stand-in for classic filmmaking.

Here are a few suggestions, rules of etiquette and safety measures you might find helpful as you delve into the art of dumpster diving. These ideas might come in handy when the proverbial shit-hits-the-fan and just about every one of us will have to resort to something weird/cheap/pathetic/extreme for an evening's worth of entertainment, an afternoon's respite, a shopping fix, or simple economic survival in these feeble, hoary days of the 21st century. Ladies and gentleman - dumpster diving tips #3, #17 and #129:
#129- A small ladder or step-stool is always a damn good piece of gear to have close by, especially when you're my age and the ol' knees just don't flex much anymore. Also be prepared, you just might hit the mother lode; bring a bag or box or shopping cart to stash your plunder. You really don't need any other fancy doohickeys to engage in this mode of trade. Some
people insist on carrying a flashlight, or wearing coolly equipped tool belts, or donning special military-issue-only night vision goggles … shit, this isn't Mission Impossible! It's just digging through somebody's garbage. I don't know, I guess a flashlight might be handy if you don't have the cojones to dumpster dive in daylight hours!
# 17- Share the wealth. Take only what you can use, and leave the rest for some other lucky diver. Remember, just because something might be 'free' doesn't mean you have to take it home. The fact is this country has one national resource we'll never be without: garbage.
#3- Here is one of the most essential, vitally important bits of information you need to know: remove your keys, wallet, cell phone, asthma inhaler, sunglasses, or anything valuable in your pockets before plunging into a dumpster … trust me, this is from the voice of experience!
Joel Gion is quite the musical renaissance man. In addition to working amongst piles of vinyl and CDs and obsessing over fine cinema and its soundtracks, he also finds time to front his own popular band,
The Dilettante
s
, while intermittently doing time in his old band,
The Brian Jonestown Massacre
. BJM was recently the subject of a feature documentary entitled
Dig
, which enabled fans to get up close and personal with one of the most riotous, chaotic groups of all time. The film comes highly recommended by this blogger. Joel will be touring with BJM this summer, and continues to gig regularly with The Dilettantes in support of their album
101 Tambourines
. More info in the conversation that follows. Here, Joel speaks about his Brian Jonestown Massacre days, how The Beatles changed his life, and the tambourine.


ME: What was the first record that really blew your hair back when you were a kid and made you start to really get into music?
JG: I saw Yellow Submarine when I was 5 and that was it. My mom took me to The Gemco the next day and bought me the Red and Blue [Beatles hits] double LPs. I jumped around in front of the mirror with my bowl cut and a tennis racket for about a week straight. I never get tired of The Beatles. I have never owned a copy of Abbey Road or Let It Be because I made a decision a long time ago I would save the later period for when I turned 40. I want to keep some fresh Beatles on reserve for the last half of life. I never want that magic out of my life.