Media Home Entertainment M809
A few days ago I was in the Amoeba Buyer's office when I noticed a retail bag with the artwork from the new
Calexico
album,
Carried To Dust
on it. It is the artwork of one of my favorite artists,
Victor Gastelum,
who I have written about in the past. After I stopped gawking at the bag and remarking how cool it was, I noticed there was something familiar about it. I went on with my work and didn't think much of it after that.
Saturday was the opening of Victor's new show,
Xacto Mundo
, at
Overtones Gallery
in Venice. I went to the opening party and it was really fun and nostalgic. I saw many old friends from back in the early 90's from Long Beach & San Pedro, most that I hadn't seen in a quite some time. After reminiscing about old times with that crew, I looked at that same piece, now framed and on the wall of the gallery. Then it hit me. It made me love the new artwork for
Carried To Dust
even more.
I took some shots of Victor's pieces. Unfortunately, my crappy photography skills do not do the artwork justice, so go check it out yourself.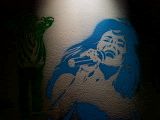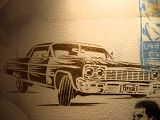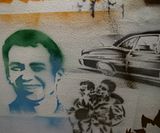 Guitar Games
The first installment in the Guitar Hero series was released in 2005. The developers at Harmonix were obviously inspired by 1998's Konami's GuitarFreaks, in which players also use a guitar-shaped controller with colored fret buttons on the neck and a pick lever to score points playing along to rock music. That game never took off on the level of Guitar Hero though, partly because GuitarFreaks required players to shred along to the likes of Mutsuhiko Izumi, 桜井 敏郎, 小野秀幸, 前田尚紀 and Jimmy Weckl (né ジミー・ウェックル), who composed songs especially for the game. Guitar Hero's innovation was including 47 AOR songs by the likes of the Ramones, Deep Purple, umlaut-abusers Blue Öyster Cult and Motörhead -- songs that, whatever you think of them, are seared into your brain if you've ever drank a Mountain Dew, rode in a Z-28, watched a television commercial or shopped at Amoeba. That means even if you've heard "More Than a Feeling" 603,501 times more than you ever wanted, you'll have no problem playing along.


In 2006, RedOctane (the manufacturers of the guitar controllers) was purchased by Activision and Harmonix was bought by MTV. In 2007 Harmonix released, through Electronic Arts, Rock Band -- basically an expanded version of Guitar Hero which added other instruments, another innovation inspired by Konami's games of the previous decade which followed up GuitarFreaks with DrumFreaks and KeyboardFreaks.
In celebration of 50 years of its Hot 100 chart, music industry's Billboard Magazine has collected its Billboard Hot 100 All-Time Top Songs. The list collects the top 100 songs from August 1958 through July 2008 -- and the songs' slots are allotted based on their actual performance on the weekly chart, with an inverse point system figuring into the ranking (i.e. weeks at No. 1 earn greater value than weeks at No. 100).
Lists of the greatest this, or best that, or most influential whatever always irk the crap out of me, though I am perpetually intrigued. Is Citizen Kane or Gone with the Wind the greatest film of all time? I don't know, but an evening on the couch with some popcorn and a beer watching the Big Lebowski is a hell of a lot more fun. Is Jimmy Stewart the greatest movie star of all time? Of course not, it has to be Cary Grant or maybe Humphrey Bogart, at least that's what I think, but according to the experts, I am wrong.
Anyway, Drum Roll please … the Number One Single of all time …
Chubby Checker's "The Twist."
Now I have to admit I was somewhat stunned to see "The Twist" up there up on top, all by itself. But
then again, "The Twist" is the only song ever to go to #1 on two separate chart runs. The first time was on Sept. 19, 1960 for one week, but after Chubby Checker made an appearance on The Ed Sullivan Show in late 1961, "The Twist" once again hit the spot, this time for two weeks starting on Jan. 13, 1962. It also set a record for the most weeks, 39, on the Hot 100 by a number one song, a record it held until UB40's "Red Red Wine" lasted 40 weeks in 1988.

Warner Home Video 14908