Damaged Bug – "Jet in Jungle"
Thee Oh Sees frontman John Dwyer has a solo project called Damaged Bug that produces buzzing, whirring analog electro-rock songs like "Jet in Jungle" influenced by krautrock and early electronic music artists like Faust and Can. This is the second track we've heard from Cold Hot Plumbs, which is out June 1 through Dwyer's label, Castle Face. Check it out via Pitchfork.
Best Coast – "Feeling Ok" lyric video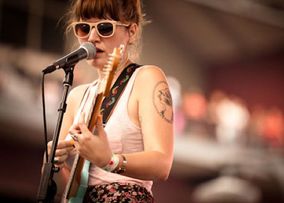 New Best Coast songs have been trickling in from their upcoming album California Nights (which is due May 4 on Harvest, you can preorder it now on LP and CD). "Feeling Ok" finds Bethany Cosentino utilizing her uncanny ability to channel her anxiety directly into fuzz-pop songs with candied melodies and straightforward lyrics. The best we can do sometimes is say "I'm OK today" when insecurity has been getting us down; Cosentino captures that moment of clarity brilliantly.