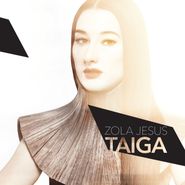 Zola Jesus' upcoming new album Taiga promises to be something special, judging by what we've heard so far. Following the release of grandiose synth-pop track "Dangerous Day," "Go (Blank Sea" is a little sultrier, built on a slower beat that swells into big, booming pop chorus and disintegrates into fluttering synthesizers, while Nika Roza Danilova's voice rises and falls with soul and precision.
The lyrics reference "downtown," which she told The Fader had to do with living in Downtown Seattle and being "in a sea of people, but at the same time you feel completely alone. It's just this idea of being a human in a civilized world and how it doesn't really mean anything. It still feels savage in a weird way."
Taiga is out Oct. 7—you can preorder it now (LP, Marble Colored Vinyl or CD). Hear the track over at The Fader.