Thee Tee Pees – "Indian Bingo"
Thee Tee Pees don't have time for your fancy studios and multitracking. But they do have time to record "Indian Bingo" 20 times (if you believe the guy shouting "take 20!") at the beginning of "Indian Bingo" just to get that perfect balance of slop and fury. The L.A. garage-punk band releases its self-titled debut in late May via Manglor, and it's already sounding like the party rock record of the summer.
Pillar Point – "Cherry" (Music Go Music remix)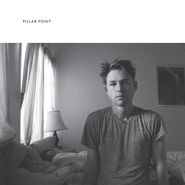 How did I miss fawning over the Bay Area's Pillar Point (aka Scott Reitherman) and his excellent, recently released self-titled dream-R&B album? I'm a dum dum. At least I had the wherewithal to be on it for this remix of "Cherry," which strips some of the gauzy texture from the original and adds a funk shuffle that makes it into an absolute jam. Known mainly for his work with Throw Me the Statue, Pillar Point is someone we're gonna have to watch from here on out. He's at L.A.'s Echoplex May 5 and S.F.'s Elbo Room May 6. Listen to the original "Cherry" here; watch the video for the gorgeous "Dreamin'" here.