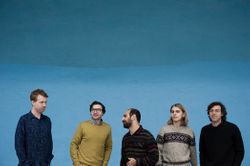 This is turning out to be a great day for new music videos!
Real Estate have a new video for the track "Had to Hear," the jangly opener to their excellent Atlas album. There's lots of summery goodness to be had here, like eating Mexican food, chillin' on a boat, playing guitar and generally enjoying life. If you haven't yet picked up Atlas, I highly suggest you do—some, like me, might even call it one of the best albums of the year so far. Real Estate will be playing live at Amoeba SF for FREE Friday Aug. 1 at 1 p.m. If you're here in L.A., they'll be at FYF Fest Aug. 23.
Real Estate will release the song on a limited edition 7" single Aug. 25 via Domino. The B-side will be a cover of The Nerves' "Paper Doll," according to Pitchfork.