Hi guys, it's a quick one this week (DEADLINES!!) but here are some great local songs/vids I checked out:
Heavy Hawaii – "Airborne Kawasaki"
Oh man, I'm falling hard for Heavy Hawaii, a San Diego duo that produces woozy, lo-fi surf pop that sounds like a Beach Boys tape reel warped from years of disintegration, with its parts sounding as though they're played at different speeds — guitars charge forward while synths rest uneasily underneath and Matt Bahamas' vocals move from sweet high-end coo to low-end doom. Goosebumps is due March 19 on Art Fag.
Bleached – "Next Stop" video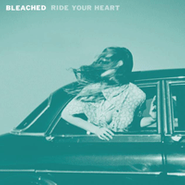 LA kids get cozy at a party over the Clavin sisters' raw surf-punk riffs and harmonies. The long-awaited debut LP Ride Your Heart, from Bleached, featuring Jessie and Jennifer Clavin formerly of Mika Miko, hits April 2 on Dead Oceans. Preorder it on CD or LP.