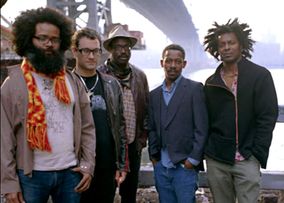 TV on the Radio have unveiled a video for their track "Happy Idiot" (from the forthcoming Seeds) that stars Paul Reubens aka Pee-wee Herman as a race car driver who loses his shit.
The clip, which also stars "Dr. Who's"/Guardians of the Galaxy's Karen Gillan, is described by TVOTR's Tunde Adebimpe is described as such (via Pitchfork):
I had this idea for the video that I thought would never happen, of Paul Reubens as a race car driver who slowly loses his mind. I took it to Funny or Die and they said, 'That's great, let's go for that.'"

I got to speak with him over the phone about doing it and, in between being blindingly nervous that I was actually talking to an actor who had shaped a LOT of my world view and trying not to freak him out by saying so, he mentioned that he's been a fan of the band for awhile. He liked the idea, and, somehow, here we are with Paul as a race car driver losing his mind.

Karen Gillan was absolutely great. We were really psyched to work with her, because she's basically sci-fi royalty, and a great person. Full on geek fest in the desert.

It was really fun to do, love how it came out. I think our fans will like it. I hope so. The cool ones will anyway. The rest can suck it. I don't exactly know what 'it' is. But they can find it. And they can suck it.