Presented by Cinespia and Amoeba Music, Cinespia will be holding an event to celebrate cult record label Sublime Frequencies on Aug. 6 at the Silent Movie Theater.
"Cinespia Salon: A Sublime Frequencies Celebration" starts at 7:30 and features a performance by Alvarius B. aka Alan Bishop of experimental rock heroes Sun City Girls and head of Sublime Frequencies. In addition, the films The Divine River: Ceremonial Pageantry In The Sahel and Vodoun Gods on the Slave Coast will screen. Following the screenings will be a party on the Silent Theater's patio with hot tea, African snacks and Sublime Frequencies DJs spinning rare global tunes.
Tickets are available here.
Launched in 2003 by Bishop and Hisham Mayet, Seattle-based Sublime Frequencies has focused on releasing music little-heard in the United States from all over Southeast Asia, North Africa and the Middle East. From field recordings to international folk and pop, the label has released nearly 70 CDs, LPs and DVDs of obscure world music.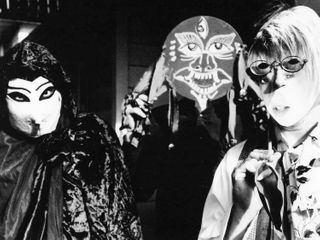 Sun City Girls
Bishop got his start with Sun City Girls in 1979 in Phoenix, logging more than 50 releases that touch on free improvisation, cult and spiritual music, and other esoteric forms of music. Combined with their performance art aesthetic, with ornate costumes and kabuki-style makeup, the group has remained a critical and cult favorite for years. The band ended in 2007, with the death of drummer and founding member Charles Gocher. The Aug. 6 event marks a one-off performance for Bishop.