Julia Holter – "Sea Calls Me Home"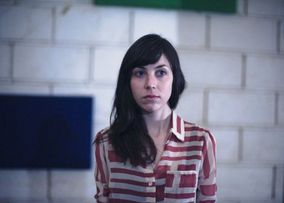 According to L.A.-based artist Julia Holter, her new song "is about moving away from things that trap you, the scary wonder in discovering freedom." With a Beach Boys-ish beat and a jaunty whistle, the song can't help but feel like getting out of a bad relationship or quitting a shitty job and staring out at the ocean, finding excitement and clarity before the anxiety of what's next hits. It's a difficult emotion to capture, and Holter does so masterfully, capturing a difficult in-between moment. Have You in My Wilderness is due September 25 on Domino.
The Mantles – "Doorframe"
Photo by David Armstrong
Bay Area jangle-pop kids The Mantles are back with a new album called All Odds Ends, due Oct. 16 on Slumberland. The first song is a forlorn little ditty called "Doorframe" that throws some wonderfully gloomy synths over the band's spirited guitar interplay, feeling like a shady cloud on a summer day. We were big fans of their last album, Long Enough to Leave, so can't wait to hear what else All Odds has to offer.