Mikal Cronin – "Made Up My Mind"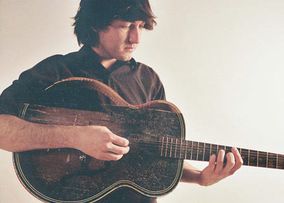 Power-pop master Mikal Cronin has announced his third album, the aptly titled MCIII, which will be out May 5 on Merge. And he's shared the first song from it. "Made Up My Mind" has one of those great rocketship riffs Cronin does so well, along with some playful piano and Cronin's weary earnest voice offering bittersweet melodies and lyrics. Cronin played every instrument on the new album, which includes a six-song suite. He'll be at S.F.'s The Independent April 22 and the Center for the Arts, Eagle Rock May 1.
Bouquet – "Stacks on Stacks"
Sometimes you hear just a couple of notes of a song and you know you love it. Such is the case with Bouquet's "Stacks on Stacks," which touches on early electronic music with breathy, romantic female vocals akin to Stereolab, Beach House or our dearly departed Broadcast. The L.A.-based duo is composed of guitarist/vocalist Carolyn Pennypacker Riggs, formerly of folk-poppers The Finches, and keyboardist Max Foreman of the experimental trio Tenebre. If you're as curious as I am about Bouquet, check out their In a Dream EP, due March 10 via Ulrike/Folktale, and/or check them out with Zola Jesus Feb. 8 at Santa Ana's Observatory.