For my sister, Jill, and all of her echoing 8 track tapes; I love you.

-Brickly

Sir, there is a stage with your name on it in San Francisco, humble as it may be. Thank you sir. You redeemed television ... for a moment. I even like the damn Aerosmith at the end, and that song only makes me think of strippers and a death in Alameda. God bless you, sir.

-Brickly

Thanks, Tina. I tell you, I don't know how them folks in them chairs sat so still! My entire childhood, this song made me flail about so hard, I often had to hold onto a bedpost. Honest, this song make-a-me crazy!

Also? I would like to thank Tina Turner and Ann-Margret, because when I was in kindergarten, I saw Tommy at the drive-in movies, and y'all 2 women made me gay. Thank you so much. I love being a gay.

What we have here is forty seconds of insane hot heaven:

Whew. Knock me down with a feather! Hell, just knock me down! Please!

If you don't understand how a movie like Tommy can make a pre-pubescent girl into a big old dyke, I can only offer this to your eyes - two bits from Tommy. The first one, my second favorite, highlights The Mother in a penthouse apartment not at all unlike the one I live in now, in fact I am wearing that gown as we speak. One of 9 identical gowns:

I was a baby in Boston and it was raining beans! It should be pointed out to you now that only today did I see any sexual reference as to the pillow, and I am not sure if that's too racy for this blog. Shoot. I can be rather obtuse it seems. (We can skip the part where there's any rational discussion about the bad acting, right? Cool!)

Now, Tina. Oh dear. Dearest Tina ... I think my crib was an Iron Maiden:

I was never supposed to be normal. For that I would like to thank my parents for being so incredibly dumb as to take little tiny children to see movies like this. Yay! You made me gay and weird! Thanks Mom and Dad! You rule!


I don't know why people have to contact me via myspace when they could show me some mad props in the comments field on
amoeba.com/blog
!!! But ... whatever. I love you!
Here it is, you lazy internet tweedles:
Mouth and MacNeil!!!!!
Of course, when
Uni
and I perform this song, there will be much much less sexual tension, though no one can eradicate the sensual power of this song! If you are in Scotland, Paris or arounds about England, check Uni's
myspace page
for tour dates in your area! Don't miss out on this magical extravaganza!!
Ding!
-- Brickly
I love this:
Of course, there's a million reasons. But I will only bore you with a few because I am aware that I am not fascinating: a lot of the time, I don't give a flippin damn what someone has to say with the lyrics they agonized writing - like Shelley in a smelly, dive bar. Sometimes? I don't care!!!!!! Raaaaaaarrrrgh!!! Also, it's like the man said, "...
essentially I'm an animal, so just what do I do with all the aggression
?"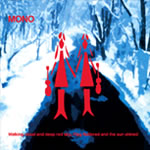 Mellow me will put on a
Mono
album such as ...
or
Explosions in the Sky
.
Also, I think in a couple of years my hair will resemble the dude on vocals. At which point I will find someone very gullible and say that that was
me
in the video, and we had everyone else stand in holes like they did when filming the Hobbits in Lord of the Rings. I will not live this lie, but I will ride it for an hour or so. Then, laughter. (mine)
Of course, I also love this:
Ha! Ha! Baby goat!! Ha Ha!! Is anyone else very sad that they do not have a pet like this goat? Please raise your hands. Also, is anyone else very sad that they cannot order
merchandise, (cough ShopperTshirt Addict cough) from Mono? Or that I seem to have lost my copy of
The Earth is Not a Cold Dead Place
... ?